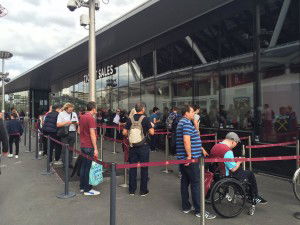 West Ham has quietly increased ticket booking fees at the London Stadium by 100% for all Season Ticket Holders.
With the introduction of the new Ticket Master contract season ticket holders were charged just £1 per online transaction or £1.95 if using the telephone. Previously supporters had been charged £1.50 per transaction under the See Tickets contract.
The 30% increase for using the telephone service last season was explained as necessary at the time as a way to pay for more operators were available to avoid long queuing times.
West Ham now charge a £2 booking charge for all Home Match Tickets while all Away Match Tickets will still have a £1 Booking Charge.
All Season Tickets for the 2017/18 Season have a £2 Charge booking fee and All Membership products will have also have £2 Charge.
Ticket Master also takes a 10% admin fee when season tickets are re-sold using the ticket exchange facility.  When the ticket forwarding facility is used Ticket MAster receive £1.25 per transaction to the person receiving the ticket.