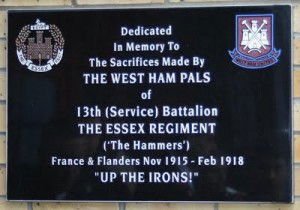 Author of "Up The Hammers!" Elliott Taylor is calling on all West Ham fans to mark the 100 year anniversary of the formation of the West Ham Pals Battalion by a minute of applause on the 13th minute of the West Ham v Arsenal home game at the Boleyn Ground on Sunday 28th December.
Elliot  was responsible for getting the West Ham pals memorial plaque outside the club shop produced and unveiled.
And he believes a round of applause on the 13th minute would be a fitting memorial to fallen West Ham fans in the first world war one hundred years on.
One of the reasons why the First World War was so traumatic an event to British society was that so many of the new infantry Battalions formed to fight in the trenches were the so called "Pals Battalions" where men could serve with local friends, neighbours or workers.
The West Ham Pals were officially called the 13th Battalion of the Essex Regiment and were formed on the 29th December 1914.
Unofficially they were West Ham supporters who joined en masse with their mates and whose battle cry (and bayonet charge) was "Up the Irons". The Battalion fought in some of the worse battles in the Somme, Vimy Ridge and Cambrai during the War and suffered causalities with many killed, wounded or missing.
The impact of all these deaths and casualties in battle on the local community was therefore immense. About one quarter of the original battalion volunteers were killed and nearly half were returned to UK with severe injuries. In 2009 Sir Trevor Brooking unveiled a plaque at the Boleyn ground to remember the West Ham Pals.