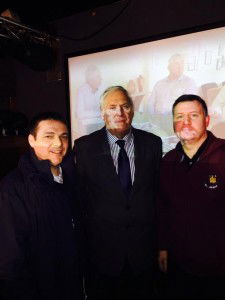 Keith Hackett has given every West Ham an apology for the worst refereeing decision in our club's history – the sending off of Tony Gale in the 1991 FA Cup semi final at Villa Park against Nottingham Forest!
Put the mere words "Tony Gale sent off" into Google 24 YEARS ON and that awful decision by ref Keith Hackett appears in all it's ghastly 'glory' after what we know today as a professional foul on Gary Crosby
But last night Hackett – speaking exclusively to ClaretandHugh associate editor Sean Whetstone and blogger Nigel Kahn (pictured right with the former ref) spoke of "my worst decision in 34 years as a referee"saying: "There are many ( who were there on the day) who still support West Ham and I ruined their day. I apologise for that."
However, Hackett insisted that he had no alternative as he and other refs had been instructed to introduce a new ruling which we know today as a 'professional foul' only days earlier and had no alternative after it had been accepted by the officials present.
But he added: "We were all sat in the room. We should have said: "Get lost." We will do it next season – not in this one.
"Had this match been played on the previous Wednesday night this would not have happened – Tony Gale would have received a yellow card."
Hackett declared: "I was made a sacrificial cow. All the West Ham fans came up to Birmingham for that day, paid good ,money and I cocked it up."
"Players may only get one opportunity of going to Wembley in their careers and my decision affected that for Tony and if you look at it now Crosby was going away from goal."
Hugh Southon writes: The game was played out in an astonishing atmosphere following the incident as  every successive goal in the 4-0 defeat was followed by louder and louder chants of "Billy Bonds Claret and Blue Army." It was hairs standing up on the back of your neck stuff.
It was a momentous day for the utterly amazing Hammers fans who truly showed what supporting your team is all about. It was entirely unforgettable and will live forever in the memories of all those who were there.
It was one of the most amazing reminders then – and now – of why we support West Ham United Football Club.
It's about the fans.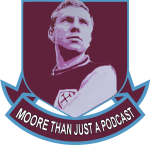 THE FULL INTERVIEW WILL BE BROADCAST ON  THE WEST HAM PODCAST MOORE THAN JUST A PODCAST next Monday evening March 2, 2015   http://moorethanjustapodcast.co.uk