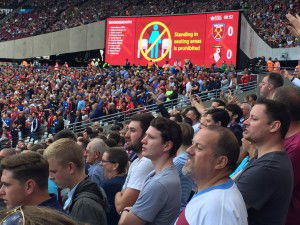 An article in today's Observer by Owen Gibson claims West Ham have already relocated 250 season ticket holders as part of their ongoing policy to put 'like minded people together'
Owen writes "West Ham are trying to move on to the front foot and have insisted on a police presence within the ground. They will hold a meeting with fans after the Southampton match, have moved more than 250 dissatisfied with their new seats and are insistent that the issues will come to be seen as teething problems as the season progresses."
He claims the migration policy  to the London Stadium was mishandled:
"Somewhere along the way the migration of season ticket holders from Upton Park, and the addition of up to 20,000 more into the mix, has been mishandled. So those in the self-styled "chav corner" – a rowdy bunch at the intersection of the Trevor Brooking and West Stands at Upton Park – were told they would be relocated to a similarly atmospheric part of the new ground only to find they have effectively been told to sit down and shut up. Conversely, those who wanted a family-friendly environment were told that the entire upper tier was designed to be welcoming to them. One of the biggest mysteries of the game of blame and counter–blame played out over the past week is the case of the incredible reappearing family section. Under Premier League rules, clubs are required to have an official family section. West Ham say that two blocks in the Bobby Moore Upper that house season ticket holders moved from the family area in Upton Park fulfil that criteria. But many fans who have contacted the Observer say they specifically asked if there was a family section and were told there was not."
Owen adds on the relationship between the club, the operators and the stadium owners:
"There is a lot of testosterone flying about, it's an awful relationship," one well-placed source told the Observer.  "All sides are insistent that money is not an issue when it comes to fan safety and it would do them a disservice to suggest otherwise. But it cannot be denied that the fractious relationship between the stadium operators (and the London Legacy Development Corporation/Newham "special purpose vehicle" that sits above them) has contributed to the current situation.
Tensions that built throughout negotiations over the tenancy agreement, which resulted in West Ham paying £2.5m a year for the stadium, have led to a far from straightforward working relationship. West Ham seem aggrieved that they were not consulted more fully about how their new home would be run. One of the more surprising lines of defence from the stadium owners was that many other sporting events have been held at the stadium – as though a one-off motor racing exhibition or a Rugby World Cup match is in any way analogous to the prospect of West Ham facing Tottenham or Chelsea.
Under the deal LS185 is responsible for all matchday costs, including stewarding and policing. With Brady having struck a characteristically hard bargain, there is an underlying irritation at being blamed for the latest problems.