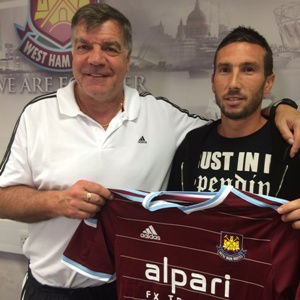 For a man who was apparently only getting lukewarm backing to remain as West Ham United's manager in the summer Sam Allardyce ain't done bad has he?
Those end of season boardroom  reviews almost seem a lapse of memory now.
He has brought in nine new players with the owners spending around £34m (gross) in the window (£31m net). They have gone to the very edge of their limits.
And make no mistake – with the exception of Mauro Zarate, these are Allardyce players from Alex Song to Diego Poyet and all stops in between this is his squad.
The cries for his head have never been louder after three home defeats and a record that boasts only four wins from the last fourteen.
But regardless of that, David Gold and David Sullivan have kept faith with a man who under different employers would surely have been history months ago.
However, if anything, the pressure is now heavier than ever on Allardyce. This has to work and I would suggest quickly.
In West Ham terms a spend of £34 million is VERY BIG and surpasses anything of recent seasons by the thick end of £10 million – the price of his failure, if that's how it turns out, HAS to be his head!
It has – or should – have taken the heat of DS and DG who having decided to stick by him, now have their hands 100 per cent on the driving wheel. 
He has to deliver!
We all want the team to start winning and winning with real style. If it doesn't happen the air will go bluer than it ever has done before over Upton Park…and quite right too.
In the meantime bring on Hull and let's seriously attack them, beat them and start a climb towards the top!