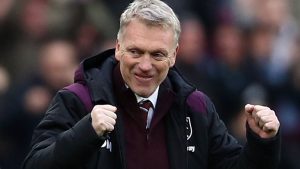 David Moyes wants the Irons to go on an unbeaten run until the end of the season but maintains that 40 points remains his minimum requirement.
Vastly encouraged by the the last two result he declared: "To get to 40 points is the biggest thing we need to do.
"I wouldn't say it would guarantee safety, as there are years when it hasn't, but in the main 40 points normally keeps you up."
He is determined to keep his targets  high and said: "I'm hoping to win ten games. At the moment, we've won eight games in the Premier League, so if we can win ten, we'd just about get our points tally up there.
"The ante could be upped if the teams below us win, but I was also aware of us taking points against Southampton and Chelsea in our last two games as well, so that meant we did a lot of our business and got some good points in.
It's not enough, but our performances and the way the players have been in the last two games have given us a real lift and since we came back from our trip we've picked up some really good points.
If we can keep the form going, the idea would be to go unbeaten until the end of the season and I don't see any reason why we shouldn't aim for that and try and get there.
If we do, I would see us getting enough points to stay up as well, so the big thing is to make sure we get the points.
If we can beat Stoke, we give ourselves a chance of finishing the season in a good position."