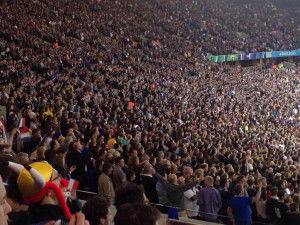 Nearly 47,000 season tickets holders have renewed their seats at the London Stadium when the deadline passed at 5pm this evening.   With 52,000 season ticket holders, it means over 46,280 supporters which account for 90% of all season tickets decided on retaining their seats.
Less than 6,000  of supporters (5,720) have decided not to renew which well below the 20% average of the Premier League non-renewals.
Fears of a mass revolt by season ticket holders voting with their feet did not materialise.
In a London Stadium survey completed in March by over 6,000 supporters such 58% said they would renew with a further 25% undecided at the time. 17% at the time claimed they would not renew but today's record figures show many of these changed their minds when it came down to it.
Joint-Chairman David Sullivan told WHUFC.com: "Once again, our supporters have shown magnificent commitment and devotion to West Ham United. When we took the decision to move our football club to London Stadium, we did so with the belief and confidence that our fanbase was deserving of a bigger and better stage.    
 
"The Season Ticket renewal figure for next season only serves to emphasise that fact, but I am still amazed and overwhelmed by the loyalty and dedication of our supporters.  They have followed us through thick and thin, and shown tremendous faith throughout the first season at our new home.Our focus now is to do everything we can to reward that faith with success on the pitch next season."