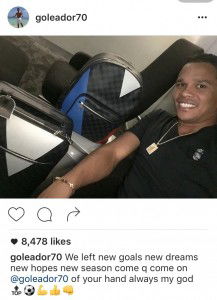 Carlos Bacca will decide whether or not to join West Ham in the next 48 hours claims Chairman's son Jack Sullivan. Posting on his twitter account while on holiday in Spain Jack posted:
"We have agreed a fee with AC Milan on Bacca and he has said, he will tell us in the next 48 hours if he is coming!!"
West Ham are thought to have agreed a £25million transfer fee with AC Milan for the 29 year old striker who scored 18 goals in 38 league appearances last season.
Bacca removed the words AC Milan from his Instagram social media page in the last twenty four hours causing fans to speculate he has made a decision to leave Milan. He also posted a photo of himself with bags packed with the title "We left new goals, new dreams, new hopes, new season"
West Ham are thought to have offered the striker a financial package worth up to £90,000 per week according to Mirror journalist, Darren Lewis.
Jack Sullivan later posted an update to defend his news saying "This is why I posted the update! I'm sorry if some of you are not happy with it, however we like to be truthful with the fans"