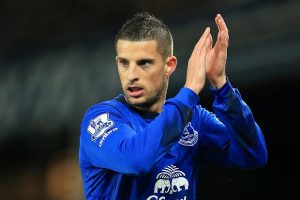 David Moyes will move for Everton right winger Kevin Miralles when the transfer window reopens in January.
The West Ham boss and Tony Henry were responsible for identifying and signing the player during their time together at The Toffees.
The Belgian was also a failed target for Sam Allardyce but the asking price of around £12 million at the time was too high.
However, reports this morning suggest that given his current problems at the club a departure is on the cards.
He was was recently sent home from training by caretaker boss Daid Unsworth and later explained on social media, he was not able to cope with "my frustration."
The player signed a new deal six months ago and that  lasts for another two-and-a-half seasons but if he fails to resolve his issues, Moyes is set to move in a player who produced his best football under the Scot before he moved to Manchester United.