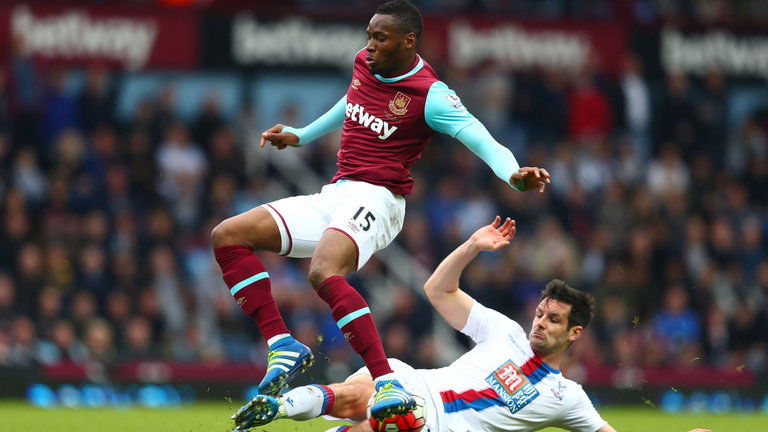 By Max Willow
David Moyes could not be under more under pressure to put together a West Ham side capable of beating Leicester City at the London Stadium on Friday night.
That's a given although there remains a view among some we should have little problem in beating the Foxes;  surprising, as they went unbeaten for six games before losing to Manchester City.
And with players like Vardy, Okazaki, Mahrez, and young left winger, Demarai Gray, only West Ham's best will be good enough if we are to grab those three points.
Moyes would do well not to use  a 4-3-3 formation with the selection of two advanced wide men on each flank as in my view we do not have the right players to warrant such an attacking structure. Nor do we players capable of successfully operating a  4-2-3-1 formation.
In both formations, we would be left with a very fragile midfield, depending on a lone-wolf striker to score goals from wing crosses (4-3-3) or long balls from midfield (4-2-3-1); my main concern is that Moyes would choose to go with a 4-3-3, using Andy Carroll as our main attacking weapon.
I have written that  Andy Carroll and Mark Noble are not great options and until there is a marked improvement from either player, I suggest that we should not start the game with these players; the bench is the place for them as possible late game subs.
 The best formation I can see for tonight is the a flexible modified 4-4-1-1 (which could change to a 4-4-2 or a 4-5-1), if required.
My team would see Adrian/Hart in goal; Cresswell/Masuaku as an advanced left back/wing back, who would be given the responsibility of attacking down the left wing, thus partially satisfying Moyes's desire for one of the wing positions, Ogbonna and Reid as our two centre backs, with Zabaleta at right back, but not as advanced as his left sided colleague. For this game, I believe that Ogbonna and Reid will require the assistance of Zabaleta to keep the Leicester attackers at bay.
My ideal midfield would take on a slight oblong shaped structure, with Obiang and Kouyate as our holding defensive midfielders. Kouyate  placed a little further ahead of Obiang, given his tendency of launching  on long runs into the attacking third of the pitch. Declan Rice could easily slot in for either player, if Moyes is not happy with the performance of either Obiang or Kouyate, who both looked a bit sluggish last week.
Further upfield, I would have Lanzini playing as our attacking central midfielder, the position which I believe best suits his style and capabilities and to.his right, I would play Edimilson Fernanades as an attacking midfielder who could also satisfy requirements of a right winger.
Taken together, this four-man midfield group, offers solidity and strength that has been lacking in recent games. In re-assigning Lanzini to a central position, he offers us a chance to dominate play in the middle of the park, in addition to sparking  attacks through the centre or directing passes to the players positioned out wide.
I suggest using Diafra Sakho as our main striker, since on balance (and in the absence of Chicharito), he is clearly our best striker at the present time. I have used Ayew or Arnautovic as a secondary central striker, playing in between Sakho and Lanzini.
Either player could comfortably move out to a wide left position, if required, especially if the left back/wing back is still in a defensive part of the field. By moving to the left, Ayew/Arnautovic could collect diagonal passes from midfield and launch attacks down the left wing. Furthermore, a quick move to the left would open up a central hole to provide Lanzini a clear pathway in linking up directly with Sakho.
The selection of these players allows the team to make shorter, incisive, diagonal passes, and creative movement, both on and off the ball. At the same time, wide wing play is possible with this formation , allowing crosses directed to Sakho, Arnautovic and one of the running midfielders. The combination of a 'West Ham passing way' and/or a more direct link to the centre-forward, should be able to create more goal-scoring chances than we have seen in recent games.
However, in order to reach this important end-point, we must start hard and fast and gain , thus allowing us to gain quality possession and dominate proceeding throughout the course of the match.
The views expressed here are those solely of the blogger and do not necessarily reflect those of ClaretandHugh