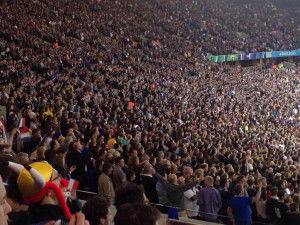 London Stadium owners LLDC have admitted that raising the capacity to 66,000 would be a challenge and costly while an increase to 62,500 was very doable.  LLDC CEO Lyn Garner speaking to London Stadium members last week explained that a new contract had a financial formula for an increase to 62,500 but a capacity increase to 66,000 was complicated.
Garner explained that new planning permission was be required for an increase to 66,000 plus extensive studies on the knock-on effect on transport, toilets plus food and beverage stalls.
The CEO  said they weren't completely ruling it out but the LLDC would need to work hand in glove with West Ham to achieve such a large capacity increase which would be expensive. Asked whether West Ham would need to qualify for Europe to justify just a capacity increase Garner joked 'potentially'.
The Hammers pay around £3.25m per year for a capacity of 60,000 which is when index-linked with West Ham paying around £83 per year for each of the extra 3000 seats added in January.
The Hammers will need to pay another £83,000 per year to take capacity to 62,500 meaning the cost of each of the 2,500 seats drops to £33 per year.