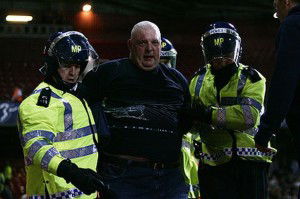 The Home Office have released details on football banning orders and arrests with West Ham United being listed as the third highest number of banning orders at 67 behind Chelsea at 91 and Newcastle at 127. This was a small increase on the 65 banning orders in place for Hammers fans this time last year.
West Ham fans had 16 new banning orders issued to them within the past 12 months, up from 14 last year meaning 51 of the 67 existing banning orders are for historic offences.
There were 37 Hammers fans arrested in the last 12 months with just 11 at the Boleyn Ground and the remaining 26 at away matches. This is a 45% decrease from the 67 fans arrested in the previous 12 months. 9 of these arrests were for violent disorder, 13 for public disorder, 1 for pitch invasion, 13 alcohol related offences and one case of an offence against property.
On a positive note there were no West Ham arrests for missile throwing, racist or indecent chanting, ticket touting, possession of an offensive weapon or possession of fireworks or flares.
Speaking to Claret and Hugh, Football Supporters Federation case worker Amanda Jacks said "Arrest figures tell a fraction of the story,  we need to know how arrests led to fans being charged and how many of those charges there after led to convictions. It is also worth pointing out that in our experience banning orders are applied for regardless of the offence and regardless of the history of the offender"
The full Home Office report can be found HERE