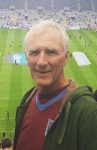 By CandH's Allen Cummings
Last time I counted there were still in excess of 70 odd days to go until the current transfer window closes at 5pm on Thursday 8th August.
That's right. It's really that long we'll have to suffer the seemingly endless rumour, speculation and often just pure guess work surrounding who might be 'set' to join the Manuel Pellegrini claret and blue revolution at West Ham.
We all like a bit of football gossip. A snippet of 'insider' information about who might be on the Manager's shopping list this summer.
The problem is there are just so many 'reliable sources' and supposed ITK's out there only too eager to tell us about who we are 'monitoring', might be 'considering' or 'following closely', it's mind-blowing!
 Whether it's a case of desperate agents trying to promote their player, lazy 'comic' journalists (and I used that term advisedly) with wild imaginations, obscure overseas news feeds looking for a cheap hit, or the ever-productive Sky Sources – even the most ridiculous of suggestions never seem to be out of bounds.
The laws of libel are clear, but when it comes to transfer speculation it appears anything goes. The trick, of course, is knowing who and what to believe – and what to dismiss out of hand.
The trouble is with social media at its most furtive, there are plenty out there only too ready to believe every word they see and hear. Then when the so-called 'deal' doesn't happen, it's time to stoke up the usual blame-game. Pointing the finger and hurling the abuse at the usual suspects.
At least there's not long to go until the season ticket renewal deadline – and that favourite old chestnut about transfer rumours being floated to generate sales can be put to bed again.
If only we could shut ourselves away completely from all of it – but we can't! I'm as guilty as the next for letting curiosity get the better of me. I have to 'peek' at what's written, like watching a horror movie when I'd rather be looking away, especially when the story in question involves speculation that one of our own players might be on someone else's shopping list.
I love football! The game itself and the passion and obsession that goes with it. But this particular time of the football year really tests my patience to the extreme. It's why I for one will be happily ticking off the days until a bit of sanity, and real football, returns again in August!