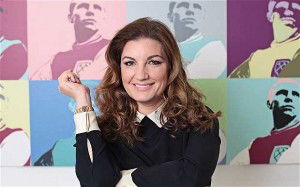 I will probably get a lot of grief for writing this piece but I wanted to pat West Ham Vice-Chairman Karen Brady on the back for her business leadership during the current crisis while football is suspended.
The Hammers deputy chair has come in for much criticism from some areas of supporter base of late but I always a believer to give credit where it is due. West Ham are scheduled to make a loss of £40m this season with the potential to double it the season is not completed.
Despite the Hammers current precarious financial position Brady decided to shun the government handout scheme and stand by her directly employed employees by paying them in full while they remain at home.
Unlike Spurs and their chairman Daniel Levy who faced a media and supporter backlash after furloughing over 500 non-playing staff, she decided not to take that action.
To rub salt into taxpayers wounds Levy announced he had paid himself £7m on the day he said he wanted millions from the government to subsidise his payroll.
Now Brady says she will take the same pay cut as the players , with the at 30% of their annual salary so in the Vice Chairman's case that would be £339,000 based on earnings last season on the assumption the season is not completed in front of crowds.
Well done Karren, it was and is the right and decent thing to do and Daniel Levy could learn a lot of from you.  Oh and Happy birthday for today!