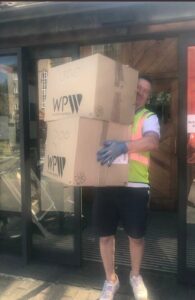 PPE face visors donated by Fans Supporting Foodbanks have been distributed in East London by West Ham supporters.
The Irons Support Foodbanks group received over 1,000 items to deliver to a number of organisations throughout the East End.
Merseyside fans have been donating cash to get them made locally and now the group wants to distribute these to the main football fans' foodbank groups.
Three hundred and fifty visors were donated Newham Council for care home staff, fifty were delivered to Aspire Community Care for home visit staff, another one hundred and fifty went to Newham University Hospital, Mile End and Royal London,  while two hundred going to Brentwood Community Hospital with the remainder shared between Spire London East, Whipps Cross, Barking.
The PPE visors were manufactured by the Merseyside PPE Hub, in Wavertree Liverpool costing just 70 pence each.
 40,000 have been made so far with 2,000 delivered to London Underground staff yesterday
Moore Than Just A Podcast presenter and friend of Claret and Hugh, Nigel Kahn was one of the volunteers delivering visors this week and can be seen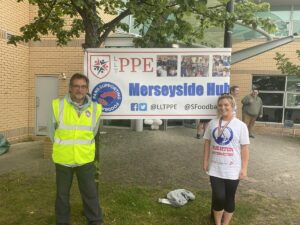 in the photo above.
West Ham supporter John Ratomski, the founder of Irons Supporting Foodbanks, co-ordinated the project and recently visited the PPE Hub in Liverpool.
Well done to all those involved from everyone at Claret and Hugh!