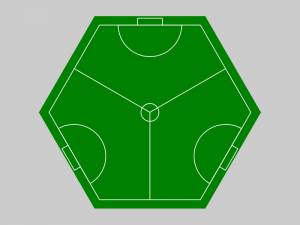 West Ham supporter and architect Adam Leatherbarrow has invented a game and a stadium with three goals and three halfway lines. As part of a competition for the University of Greenwich designed the new game.
In his competition submission, he says: "Three-sided football is a modern adaptation of the "beautiful game". In typical football games, there are two teams, with two goals and two halves, that play a fixture to determine the winner by who scores the most goals on a rectangular football pitch, where attacking is key. Three sided football is a game where there are three teams, three goals and three halves/thirds played on a hexagonal pitch. A team does not count the goals that they score, but only the goals they concede. The team with the fewest goals wins the game by having the best defence and how well you work with other teams at the same time – this is called "Philosophy football".
Philosophy football is a concept that is slowly making an impact in many countries in the world and there has even been a world cup.