While the West Ham v Stoke match at the London Stadium went largely trouble free with no arrests and 'no incidents of note' questions are being asked about the extra security drafted in to help with yesterday's game.
A new black clad group of security stewards with yellow baseball caps were visible in block 127 in the Sir Trevor Brooking stand but their purpose and identification remain unknown contrary to guidance laid down by the government in their green guide safety at sports grounds.
Section 4.12 of the guide says "Experience shows that spectators react more favourably towards stewards who are readily identifiable. It is also important that stewards are easily identifiable by fellow stewards and safety personnel. All stewards should therefore be provided with high-visibility, weather-proof jackets or tabards which meet current safety standards or some other clearly visible means of identification. Armbands alone are not acceptable. The stewards' jackets or tabards should clearly indicate the duty performed by the steward; for example, safety officer, chief steward, supervisor, steward or car park steward. The jacket or tabard should also carry a unique number, by which each supervisor or steward can be identified."
Football Supporters Federation case worker, Amanda Jacks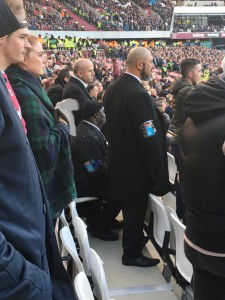 asked on twitter "A new type of security at West Ham, presumably in response to problems but who are they? Attire contrary to guidance"
Other photos from West Ham supporters in Block 127 in the Sir Trevor Brooking Lower stand showed SIA Licensed security men within the crowd both standing up and sitting down. We were later told these were security personnel for the club store but the question remains whether they were on or off duty during yesterday's game. Guidelines state they should not wear their SIA licenses on their arms when off duty.
159 West Ham season ticket holders were relocated to block 127 from the West stand block 114 to create a wider segregation area.