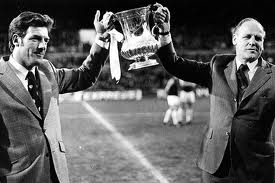 Rob Robinson has become a much respected figure on Twitter and inside the club since it emerged he is the son of the club's former striker and later assistant manager Bill who served under Ted Fenton.
Bill scored 60 goals in 101 games for the Irons in the 40s and after retiring through injury stepped into the coaching role where he oversaw the development of our greats – Bobby Moore included.
A season ticket holder, Rob is deeply concerned at the direction West Ham's football has taken under Sam Allardyce particularly during what he describes as "a horrendous season."
Over recent weeks the re-emergence of the expression "The West Ham Way" has become a talking point among fans on Hammers websites and in this blog, Rob contrasts that with Sam Alladyce's Way.
It's a cry from the heart from a man steeped in Hammers history. You may disagree with him but you cannot fault his honesty.
 Rob's Dad Bill oversees training with John Bond and Mooro being put through their paces
CLARETANDHUGH EXCLUSIVE 
BY ROB ROBINSON 
The West Ham Way
My association and "love affair" with West Ham United began at the ripe old age of three when my father, Bill, was playing for the Hammers in the Old Division Two.
The "West Ham Way" was to play to the best of the team's ability and their aim was to win games by scoring more goals than the opposition. Simple enough and a little different to the beloved "clean sheets" defensive efforts of the current regime!
I remember watching the teams of the late 50s/early 60s sides play with real flair, skill and imagination which was displayed by such players as Geoff Hurst, Budgie Byrne, Kenny Brown, Andy Malcolm, Eddie Bovington, the enigmatic John Bond, Noel Cantwell and the inimitable Bobby Moore. They were proud to wear the claret and blue.
The style of play employed at that time demonstrated the true spirit of the game by trying to outwit opponents with skilful movement, fast and pacy attacking ploys under the guidance of the Manager Ted Fenton and my Dad.
This was later enhanced  by Ron Greenwood, a manager who came from Arsenal, and was instrumental in the team winning their first FA Cup Final in 1964.
The team were encouraged and coached to play the open and expansive attacking style that would become their trademark. This led to an historic Cup Winners Cup win against TSV Munich 1860.
With the arrival of John Lyall (pictured above with Greenwood)  taking over the manager's role in 1974 the "West Ham Way" was continued with much success for 15 years (1974-1989).
This included FA Cup wins over Fulham (1975) and Arsenal (1980). Who can forget Alan Devonshire? A superb incisive player who could change a game with one twist and a turn.
In 1985-86 the team achieved their highest ever League position to finish 3rd behind Liverpool in the old Division 1, all while still playing the "West Ham Way", and with TWO strikers, Tony Cottee and Frank McAvennie.
Big Sam's Way …
Outdated, boring, predictable football. He relies on a big target man up front to get on the end of endless long balls. This has led to a stifling of creativity at every opportunity, loss of momentum and lack of penetration.
Ravel Morrison, a case in point, our one and only creative player who it seems couldn't play Big Sam's Way.
Mr Allardyce asks; what is the "West Ham Way"? Hopefully, I hope I have given him an insight into the  superb play which was and could still be used by the Hammers.
I know my Father would be turning in his grave and suspect  that Mr Fenton, Mr Greenwood, Mr Lyall (who all embraced "The West Ham Way") would have the same feelings about Big Sam's Way.
The current style of play seems one-dimensional and leads to frustration and insecurity about the future.
If Mr Allardyce believes that his style of play is the only way to maintain our Premiership status, I for one, don't want to be a part of it and will cancel my season ticket until we can appoint a modern day coach who will bring the more creative style of play back to Upton Park and give our superb fans something to "Blow Bubbles" about.
If we don't act now the consequences could be disastrous for our great club.