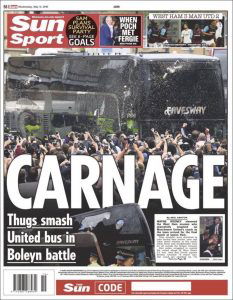 When Manchester United's team bus was trapped in Barking road and a window smashed in the run-up to the last game at the Boleyn Ground in 2016 paper headlines around the world labelled the incident 'Carnage' and West Ham fans 'Thugs'
Completely lost was the West Ham win over the Red Devils with Winston Reid's striker in the 80th minute to make it 3-2 and the celebration which followed.
A very similar incident happened in Liverpool last night in the Champions League quarter-final. Liverpool fans can be seen pelting the bus with bottles smashing a window and letting over pyro as the Manchester City bus rolled in with the team.
Not that you would know about this incident unless you search for it this morning, the back pages of today's tabloids are full of praise for Liverpool with the Mirror Sport calling them the 'IncREDibles' after Liverpool's 3-0 win over City'
If ever you wanted proof over West Ham biased reporting in the media, this is it!