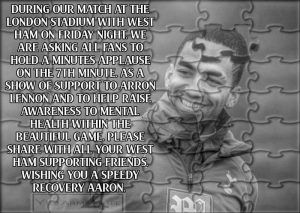 Spurs fans have asked West Ham fans to put aside their rivalry and join them in one minute's applause for Aaron Lennon in the 7th minute of this evening's London Derby to raise awareness for mental heath.
Everton player Lennon has been sectioned under the Mental Health Act after a 20-minute stand-off with police at the side of a busy motorway. The former Spurs and England midfielder, who has not played since February 11th, was picked up by cops in Salford, close to the M602 last Sunday over concerns for his own welfare.
West Ham says they are aware of the fan social media campaign to raise awareness and are ready to put up a photo of Lennon if West Ham fans spontaneously join in with the tribute to Lennon.
The message from the Spurs campaign says: "During our match at the London Stadium at West Ham on Friday night. We are asking all fans to hold a minute's applause on the 7th minute as a show of support for Aaron Lennon and to help raise awareness of mental heath within the beautiful game. Please share with all your West Ham supporting friends. Wishing you a speedy recovery Aaron."
A club source told Claret and Hugh: "Although there is no official backing for the tribute we will be ready to put a photo up on the big screens if West Ham supporters joined in" adding "It would be a nice touch if it happened"