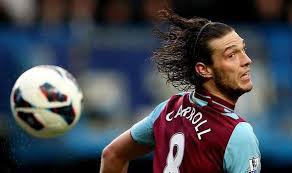 This won't take long!
We are going backwards – launching long and refusing to play the most successful strike partnership we have seen at the club since Cottee and McAvennie.
Andy Carroll most certainly has a role to play but not as a permanent fixture come hell or high water.
Also we have been told by the manager himself that with so many games coming in such a hurry over Christmas and the New Year there needed to be some rotation…unless. it seems, your name is Carroll!
We have reached the point where it really is AC and one other – some rotation policy that! It didn't work at Chelsea and it didn't work today.
Diafra Sakho is unquestionably Carroll's equal. Enner Valencia has pace to burn and on his days is electric but the manager does love his big man up front however unsuited – as was the case at Chelsea – the tactic may be to the game conditions.
These things are so self evident they don't really need to be repeated but such is the obsession with AC under the current manager we are forced to do so over and over again .
The result of the Carroll love-in is that we launch long and the 'to feet' game which brought us all our early success is slowly disappearing unlike Carlton Cole who Sam Allardyce admitted earlier this week is "one of my favourites."
That is pretty worrying and another example of the way things are going.  'Back to the Future' has been on the box about five times this Christmas.
Seems we are seeing another re-run at the Boleyn and it's nothing like as entertaining!