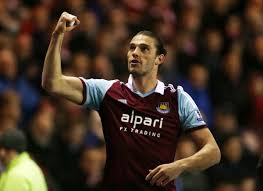 If there's one player in the Irons squad which returned to training today with much to prove this winter it's Andy Carroll.
His last campaign was marked by a long spell of injury, a shocking sending off courtesy of Chico Flores which brought a three match ban and just two goals in 16 games.
That was followed by the disappointment – or perhaps on reflection the 'result – in not being a part of the shocking England World Cup adventure!
But refreshed from a summer break, the Geordie returned to training today determined to make a serious impact next term.
Speaking to West Ham TV he said: "I have had a nice break but obviously it's nice to be back at the training ground and among the lads and stuff.
"I didn't want last season to end, but I've had a good summer and hopefully this next season is going to be a lot better than the last."
"It was disappointing last summer, being injured a lot, so fingers crossed this season will be a lot more positive with no injuries and I get through pre-season and the whole season to follow."
Carroll will be joined in pre-season by new arrivals Mauro Zarate and Cheikhou Kouyate, with the former expected to add firepower as West Ham seek to play a more entertaining and attacking game.
AC said: "It will be great. The players we have signed are obviously positive and attacking signings, so it will be great for them to get back into training with us and see what it's all about."