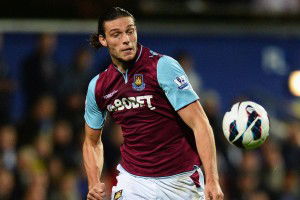 Andy Carroll see no reason why the Irons can't beat Manchester United next weekend and says there's nobody in the dressing room who doesn't see the team "getting safe."
Bitterly disappointed at having scored the opening goal at Stoke yet seeing the team get beaten he said: "We were obviously disappointed with the result at the end.
Speaking to the official site he said: "We know we need points because we're not safe so we need to keep working hard and focus on the next game.
I don't think anyone is not confident about staying up and getting the points we need.
"We've been talking about it in the dressing room after the game. We know it's a tough game against Manchester United but I don't see why we can't get three points against them with the form we've been in.
"I don't see why we can't get the three points. We were disappointed at Stoke, but come Monday morning everyone will come into training raring to go to get three points against Man U."
He's happy with his own form and fitness adding: "I feel good. I've been working hard in training through my suspension and I'm feeling good and feeling fit.
"We've been doing well when I haven't been playing, keeping clean sheets and getting the points on the board to get us out of the relegation zone and up into tenth. It's been all positive."
"The World Cup is on my mind, of course it is, but I've got to start scoring goals here and start winning games before that comes."