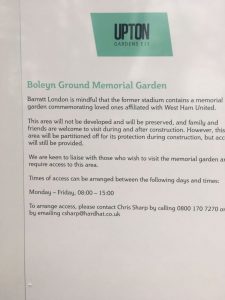 West Ham's Memorial Garden has in Green Street has been tidied up again on Tuesday afternoon by Boleyn Ground developers following complaints of further neglect by supporters visiting it in recent days.
Developers Barratt London has now agreed to provide better access to the garden through their own site team after concerns about the process to pre-book access. The garden situated close to the demolished Boleyn Ground stadium are open between 8am and 3pm Monday to Friday.
A previous procedure asked supporters to email csharp@hardhat.co.uk in advance to arrange access.
A reply to that email address told Claret and Hugh
"The memorial garden is open Monday to Friday, between 8am and 3pm. Usually guests can just show up at site between opening times, where the site team will allow them in.
However, if you confirm when you would like to visit, I can inform the team of when you will be visiting, so they know to expect your visit." 
The current Memorial Garden was founded in 2001 during the creation of the new West Stand. The land on which it sits was formally the playground of St Edwards Catholic Primary school which moved to a new building a few hundred feet away in September 2000.
The developers have promised to retain and incorporate the West Ham memorial garden within the development of 842 flats which will be called Upton Gardens.