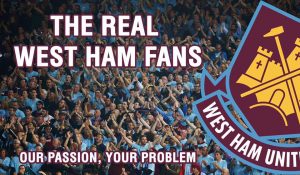 Momentum is growing with the newly created Real West Ham Fans Action Group as it passed the 10,000 mark of members joining their facebook group this week.
On Monday the action group led by Andy Swallow held their first public meeting at the Boleyn pub in Green street attended by several hundred fans.
Despite the limited time, the group have been existence they have already been successful in getting the club to tidy the memorial garden at the former Boleyn Ground site, a change of policy on away games and a club indication that they plan to honour the former West Ham crest at the London Stadium.
Just twenty-four hours ago the action group pointed out the state of the World Cup Champions statue on the corner of Green Street and Barking only for Newham to send out a cleaning team within hours of a complaint being raised.
You can find out more about the Real West Ham Fans Action Group at https://www.facebook.com/groups/370969473326959/