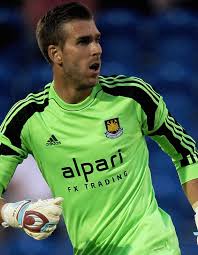 One of the most encouraging features o f the last couple of games has been to see goalkeeper Adrian returning to his best.

The Spaniard was perhaps looking more suspect than he had been last season but his performances against Manchester City and Stoke have been nearly faultless.

Hammers legendary stopper Phil Parkes pointed out earlier in the season that the keeper may suffer a spot of the second seas syndrome and claimed he was still on a learning curve.

That he has overcome a slightly anxious opening period and returned to top form, is hugely encouraging at a time when the team is going so well.

He showed he was back to his best with two saves in particular, first when saving well from Mame Diouf  blocking the shot with his legs and then near the end making  another brilliant save from Geoff Cameron.

But for those efforts the outcome of the game may have been very different.

It was a far cry from the questions some were asking of his handling earlier in the season. Thankfully, the learning curve Parksey talked of is in full swing and going very well indeed.