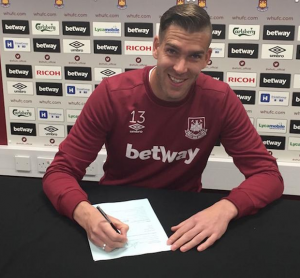 There's no coincidence about the fact that we have kept a couple of clean sheets since Adrian's return and again we were grateful to him for some fine saves at the weekend.
But beyond that there's a calm and composure about the Spaniard which also breeds more confidence in a back four which had been losing its way in front of Darren Randolph.
His return has come at precisely the right time for the likeable 30 year old who will be entering new contract talks at the end of the season.
His current deal runs out on June 30 and we understand the club are in early talks with the stopper with Everton watching on.
Ronald Koeman is believed to have held a long term interest since watching him lose his place but the Hammers are keen to keep him on board.
They have a two year option on him but personal terms need to be mutually agreeable.
Having been returned to the first team he commented: "It was difficult waiting to play obviously. I am a professional so it's been hard the last few months, but at the end of the day, we are a team.
"Darren and me work hard every day together, and yes, we are good friends. It's not just us – there is Rapha [Spiegel] and the young goalkeepers too."