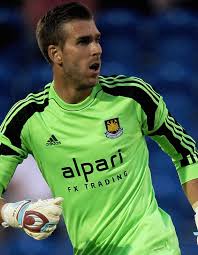 Keeper Adrian is keeping his fingers crossed that boss Sam Allardyce gives him a chance to prove his worth against at Spurs tonight.
The Spanish stopper has had few chances to impress since arriving at the club but that won't stop him pressing his claims whenever he gets the chance.
He said: The  game at Tottenham will be a good chance to show the gaffer and everyone that I want to be in the team and that I'm capable of performing at that level.
"I hope to play against Tottenham and help the team as much as I can to get a result and go as far as possible in the Capital One Cup.
"It would be a great boost to get through to the semi-final in such an important competition as everyone would get a big a lift if we could get through."
The 26-year-old was on the bench when the Hammers triumphed in north London in the Barclays Premier League earlier this season and he would love to give the fans a similar result to cheer.
He continued: "It was a great feeling to beat Spurs at White Hart Lane in October. I was on the bench that day, but I remember all the fans who were there – they hadn't had great results to cheer before, so that was great for them and great for us too.
"Since I've been here I've always felt the warmth of the fans, they've always been backing the team and supporting them.
"We're going to have over 4,000 fans there  and they're going to be very important for us, to cheer us on and give us confidence to have a good game."