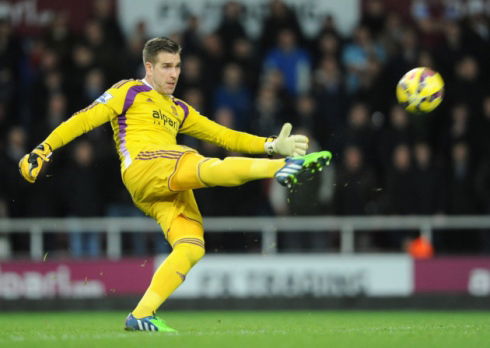 Adrian has good memories of his clashes with Jose Mourinho!
Speaking to www.whufc.com he recalled matches for Real Betis against Mourinho's Real Madrid plus his sensational performance against Chelsea at Stamford Bridge last season.
He said: "I don't know if Mourinho remembers me but when I play against him I have got some good results – a win with Real Betis and a 0-0 draw at Stamford Bridge last season.
"With Betis, we won the game 1-0 and personally I was the Man of the Match and I was very happy with that result! "Personally, I feel good when I play against Mourinho!"
And he claims clashing with Diego Costa, Eden Hazard and the rest reminds him of the night he denied Cristiano Ronaldo, Angel di Maria and Karim Benzema.
He said: "It's more or less the same sort of game, facing Chelsea as it was facing Real Madrid, with all their attacking players.
"We need to concentrate for the full 90 minutes and if we play well and show our performance level like we did against Liverpool, Man City and Man United at home, we can get points.
"This game, the 'keeper is busy because they have good players and good strikers, so you normally need to make good saves to keep your side in the game. I hope Wednesday will be a good game for me and for the team.
"It's a tough game for us, but all our players are motivated for this game."
 Having let leads slip against Manchester United and Tottenham Hotspur and gone down to a home defeat by Crystal Palace on Saturday, the says there's lots riding on the match.
He said: "We need to recover and play to our top level against Chelsea. It's another really big London derby.
"I try to keep a clean sheet every time but sometimes it's impossible, like it was on Saturday. I play every game at 100 per cent and that will be the same against Chelsea and I hope to get a good result on Wednesday.
"Not just one player can win the game, though. We need the whole team to concentrate for the full 90 minutes. It is a big game for us, for the fans and for the club and we need to get the three points to stay in a good position in the league."