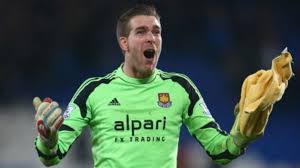 Brilliant goalkeeper Adrian has lifted the www.whufc.com Player of the Month for the second month in succession.
He topped the January poll by a landslide margin but had to fight off the attentions of skipper Kevin Nolan this time around!
A brilliant February threw up several candiadates but in the end our favourite Spaniard clung on to top spot by 0.6 per cent with 38.8 per cent of the vote.
Mark Noble was third after scooping 14 per cent of the vote.