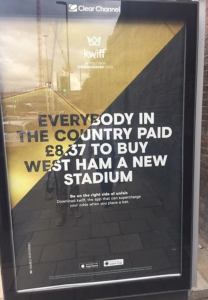 The Advertising Standards Agency has rejected complaints from West Ham fans over a gambling advert which poked fun at West Ham claiming everybody in the U.K has paid £8.37 to buy West Ham a new stadium.
The ASA council was asked to consider whether:
the ad was misleading because it implied that West Ham had been given and owned the stadium, whereas it was a multi-purpose venue that they rented for 25 days a year at a cost of £2.5 million, and
the ad unfairly denigrated West Ham FC, which they believed could be inflammatory amongst football fans.
The ASA ruling was that:
While Council noted that the ad referred to costs involved in funding the Olympic Stadium, we considered that consumers were likely to understand the claim to be a statement of the advertiser's opinion on how much public money had gone into the stadium for it then to be used by a football club.  Council noted that the bidding process for the use of the stadium following the 2012 Olympic Games had been widely reported on and considered that most consumers would understand that West Ham did not actually own the venue, which was also used for other events.  In any case, they noted that the ad promoted a general betting app and that the subjective reference to fairness in the ad was unlikely to mislead consumers into making a transactional decision they would otherwise not have taken.
As set out above, Council considered the ad was likely to be understood as referring to the advertiser's opinion on the public costs involved in building a stadium now used by West Ham FC.  They noted that the ad did not make any directly negative comments about West Ham and considered it unlikely to be interpreted by consumers as suggesting that the club had acted in any way unfairly.  Council therefore considered the ad did not denigrate or discredit the club, and concluded that it did not breach the Code for the reasons suggested.
We have made the advertiser aware of the issues that were brought to our attention by yourself and others in case they wish to take on-board the information provided when creating their ads in the future.