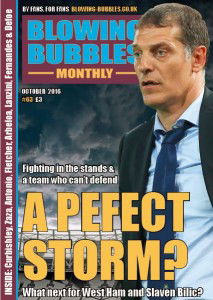 Alan Curbishley believes David Sullivan is a 'dying breed' and that Hammers fans are very lucky to have him and David Gold as chairmen.
And in an exclusive interview with Blowing Bubbles Monthly, Curbishley believes he could have worked with the pair and had they been at the helm when he was manager, he would never have left.
"It's so rare to find a chairman these days who's a fan who's done good and come back to buy the club he loves – so many owners now just look upon a club as part of a franchise; in many cases, they don't even bother going to games, let alone that you would have any chance to talk to them," he said.
"West Ham fans are so lucky in that in Sullivan and David Gold, they've got two people who really have the club close to their heart."
Elsewhere in the popular publication, which supporters can get hard copies of at the entrance to the Olympic Park outside Westfield
on Saturday
, Michail Antonio and Cheikhou Kouyate have outlined their hopes for the season.
As has the voice of Formula One, David Croft, who discusses all things West Ham.Meanwhile ex Hammer George Parris believes Aaron Cresswell's reputation has soared since he has been injured.
In addition Sky Sports' Bianca Westwood asks if it's time West Ham truly honoured Billy Bonds.
Blowing Bubbles also looks forward to our League Cup game against Chelsea and asks if this is exactly what West Ham fans need at Stratford?
Lucy Woolford asks if West Ham and Zaza can make their unlikely alliance work while two writers debate whether or not West Ham missed a trick not signing Christian Benteke?
For those living in the UK who aren't going to the Middlesbrough game, you can secure
Those living in Europe and further afield can also pay for a hard copy on the same page as well as securing a subscription to receive future issues.