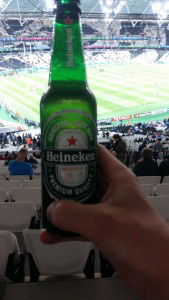 In line with UEFA regulations all alcohol sales will prohibited from sale in the former Olympic Stadium this Thursday evening when West Ham face Domzale in the second leg of the third qualifying round.
Under Europa League rules, clubs participating in its cup competitions cannot sell alcohol in the stands.
A spokesman at Uefa said the policy had been in force since Euro 2000 saying: 'It's a policy of Uefa that alcohol and sport don't match. Beer can be sold in stadiums, but only zero alcohol.' 
A club spokesman confirmed the ban saying "Correct,  the sale of alcohol in concourses is not permitted in UEFA competitions."
We understand alcohol will be sale as normal for the Betway Cup friendly against Juventus on Sunday.
Dutch brewer, Heineken won the pourage rights for the London Stadium although West Ham will receive no share of the lucrative 'Pourage Rights' deal.