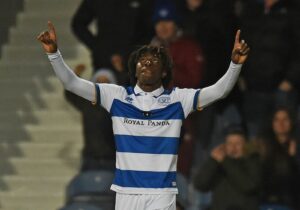 David Moyes has been reported to have met with representatives of Eberechi Eze in the past week in what has been said to have been a very positive meeting.
QPR's Eze is greatly admired by the West Ham manager and board but they know they will not be alone in their admiration this summer.
A bid for the 22-year-old will almost definitely rely on the sale of a West Ham player to raise the necessary funds with Felipe Anderson being the most obvious candidate.
Eze is at his best in the No 10 position and finished the season with 14 goals, including a great effort when QPR ended their season with the 2-2 draw that led to West Brom winning automatic promotion last week.
The Hammers are reported to have paid €41m (£37m) to Lazio for the attacking midfielder in 2018 with a further €6m (£5.4m) in potential add-ons and another €5m (£4.5m) on agents fees.
In today's transfer market, the Hammers may be lucky to £25m for the Brazilian but could yet be forced to take a lower amount to ship out the player and his six-figure weekly wage off the books.