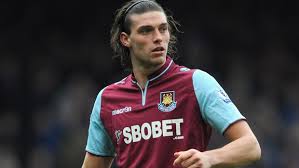 Sam Allardyce appears ready to recall Andy Carroll to the squad for the huge clash at Cardiff City tomorrow (Sat).
The manager gave a somewhat convoluted answer to the question when asked at his morning presser today which concluded with him declaring when directly questioned: "Not in the team, no, but in the squad."
Earlier, however, he hadn't seemed quite so certain when the subject was raising declaring  "If everything goes okay and according to plan then I have to make a decision based on all the information I get on whether Andy's feeling fine and training well, but he hasn't had a game since last May.
"There's never going to be a level of match fitness he gets to. Ideally we'd like to progress it a little slower but based on the circumstances, in terms of where we are, then it may be a calculated risk which I'm prepared to take."
He added that James Tomkins would be back in the squad but claimed Joey O'Brien wouldn't make it.
He said: " James Tomkins back in the squad which is a big boost for us. James Collins is close, but not quite there.
"Unfortunately on Wednesday night Joey O'Brien got injured so it doesn't clear our problems, it's forever continuing. We get one back and one seems to pick up another injury at the moment.
It is good to have James back in the squad because central defence has been the real big issue in terms of how the results have been affected recently."