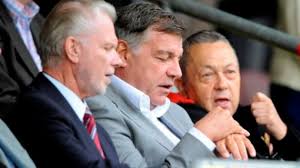 Irons boss Sam Allardyce has spoken openly about his fears of the sack during a miserable run of form over  Christmas.
Although co owners David Gold and David sullivan regularly made it clear he was safe until the end of the season – AT LEAST – the manager remained concerned for his job.
He said: "Thankfully the owners stuck by me, but I'd be lying if I said I didn't wonder how much longer they could withstand the pressure.
He told the Sunday People: "I wouldn't have been surprised if they'd sacked me but it would have been unlike them.
"And I don't think I would have deserved it given my experience in these situations and the problems we were having.
"When they were at Birmingham they were not owners who would quickly sack managers. But with the move to the Olympic Stadium in the background, it means the stakes are high.
"The Premier League is worth about £70million a season. When you go down to the Championship it's about £10million plus parachute money so the gulf between the divisions is like the Grand Canyon.
"The devastation caused by relegation is huge and affects a club for years, so I don't mind admitting January was probably the most difficult time in my Premier League management.
"It was the toughest I've ever known. We had poor results defensive problems, Andy Carroll injured and then Kevin Nolan getting sent off on New Year's Day for the second time in a month.
"We weren't far from getting the results but the turning point was going to Cardiff."
He added: "David Gold replies to almost every message he gets on Twitter and I'm certain there were a lot calling for me to be sacked.
"Then the media are on the case and suddenly TV cameras start appearing at your training ground trying to get footage of an adverse reaction or a fight between the players.
"All that puts pressure on the owners as well as me and we all know that many owners have succumbed to that and pressed the panic button.
"But in the January window they backed me by getting four players in – Marco Boriello from Roma, Antonio Nocerino from AC Milan, Pablo Armero from Napoli and Roger Johnson from Wolves. The irony of that is now those players can't get a game."