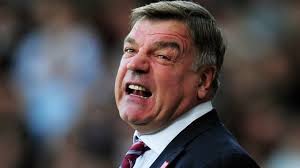 Many have been calling both here and on other sites for a poll to be held on the manager's position ahead of the season.
We understand the motivation and the deep disappointment at pre-season and the football that's been on display.
But after Claret and Hugh's revelation yesterday that Sam is effectively on a six game trial period with the board, a poll – at this stage  anyway – seems pointless because the only one that matters will be those half a dozen matches.
If everything goes tits up it seems impossible to believe the board won't act. The events of last season – and the early summer season review – appears to make that a given.
Thus far there has been no sign in a change of approach but one matter that hasn't been mentioned is the manager's relationship with the fans.
Both David Gold and David Sullivan insisted that the manager had to get them all back onside – well that hasn't been going at all well along with everything else has it?
And for all the thick skin syndrome of our manager, should results go against him and the screams of disapproval start as they most certainly will, it's impossible to see how he can survive.
There's also the possibility that come the start the manager will unveil a system and set of results which take us totally by surprise.
I certainly have very serious doubts about that and have made my position on the manager clear – I think he's past his sell by date.
But there will be no polls on this site until at least six games into the season …if indeed one is needed!