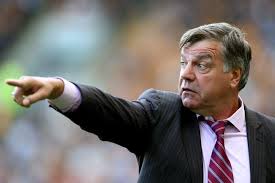 Sam Allardyce has told Carlton Cole he was absolutely entitled to give the club a b…..king when recalled to the club from West Brom after being offered a long term deal.
Allardyce said: "David Sullivan and I had recognised he needed to go but circumstances dictated otherwise. He'd just been offered a long-term deal at West Brom while his contract with us is up this summer and he doesn't know whether he will be given another one.
Speaking to the London Evening Stadard he added: "Add to that he would probably have played a lot more football at West Brom than he would have done here.
"Carlton came to see me on Wednesday and said: "I'm going to have to get on with it." That's the right attitude."
Allardyce made it clear he loathes theJanuary transfer window and said: "Going into the Bristol City game there was no real necessity to really bother with the wretched window.
"All of a sudden we picked up a couple of injuries in that game, followed by three more against Liverpool last weekend.
"It was all a bit scary the speed with which it changed, particularly with the three centre-halves all being injured. If that wasn't enough, two of our young defenders, Doneil Henry and Reece Burke, are also sidelined, bringing the total to five.
"I was on the telephone all day on deadline day — the problem was that either the deals were too expensive or the players we were interested in wanted permanent deals rather than loans, which the club favoured.
Loans, up until now, have always been more straightforward because clubs have wanted to unload certain players. This time though — and it looked like it was across the board and not just us — the players wanted permanent deals.
Another factor was that there weren't as many players available – full stop. Because of the way things are going, clubs are more inclined to hang onto their players now, rather than sell them.
Our failure to sign Emmanuel Adebayor was particularly disappointing. He may divide opinion but he is a player of proven quality and ability who has made an immediate impact wherever he has played. If there have been any problems, they've usually occurred further down the line.
"Emmanuel wanted to come here and one of the reasons was that his big mate is Alex Song and when you have a player like Alex at your club, it attracts other good players.
There is no margin for error which was why I thought our defeat at Liverpool was one of the worst of the season in terms of goals conceded. That can't happen again because we will waste all our hard work of the season if we defend like kids again.