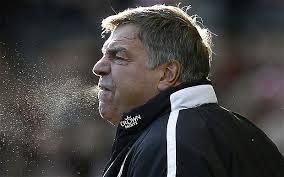 Sam Allardyce has emerged from a self-imposed silence to speak to the Sunderland media!
He expressed his passing of Gus Poyet in the Newcastle Chronicle Live and told Hammers fans not to expect us to brush them aside on Saturday evening.
Allardyce himself is of course a hot favourite to become the club's next permanent boss but a Black Cats relegation could change all that.
Commenting on Sunderland's position whom we meet on Saturday evening, he said: "I think the appointment today and last week's result, will make life very difficult for us on Saturday.
"We're just as desperate for a win as they are, so it will be a very tough game – I'm sure of that.
"And I hope the West Ham supporters don't expect us to just breeze past them 4-0 like Aston Villa did last week."
"For me, it's always a sad occasion when a manager loses his position," said Allardyce, who spent one season as a player on Wearside in the early 1980s and later had a spell as manager at Newcastle United.
"When you saw the result on Saturday it seems that was the final straw for the board.
"It's a shame for Gus after what he did last season when he almost created a miracle with his escape from relegation with the club, and it hasn't gone as well (since) as he would have wanted, I know.
"Obviously, his son Diego is playing with us, so I hope he is OK."