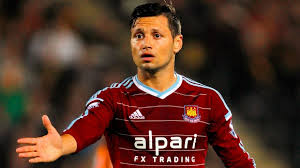 Sam Allardyce has warned  Mauro Zarate that he is really going to have to battle for his'starting place at the club.
The Argentinian hasn't featured since the start of October an in such circumstances, talk of departure swill never be very far away.
However, Allardyce today addressed the issue publicly declaring in his press conference: "His future at West Ham is that he has a contract here and has to fight for his place like everybody else.
"Everybody sets off on a level playing field at the start of the season. He started well but then a few of his performances didn't get up to the level that we saw him at at Crystal Palace."
"Valencia and Sakho have taken over, the brilliance of those two has made life for Mauro, Carlton Cole and even Andy Carroll difficult.
"You have to work for your place now and perform at the top when you get in. If your form dips then your place goes too."
It will be interesting to see what happens should we be a striker or two short on Saturday afternoon!