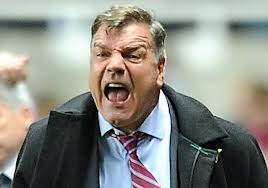 Tottenham goalscorer Eric Dier's comment that West Ham play direct football … and play it well has gone down very badly with Sam Allardyce.
The Hammers boss – perhaps not unnaturally – was in touchy mood after the defeat by Spurs.
And Dier's remark appears to be the straw that broke the camel's back in Sam's world.
Noe did Allardyce appear to have any regrets about staying with his one-up system rather than send on another front man to tray to change things.
He said: " I listened to the Tottenham lad saying we played direct football. He must have been at a different match.
"We outplayed, out created Spurs.When you have had 20 attempts and the opposition had hardly any, why do you need another striker on."
However, the official stats don't entirely bear out Allardyce's analysis as whilst the Irons had 18 attempts just four of them were on target with Spurs managing the same number from 10 attempts.