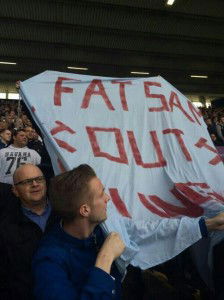 Sam Allardyce has made it clear – although none of us needed telling – that he will not quit West Ham.
Having shrugged off the demonstration at West Bromwich Albion yesterday which saw a 'Fat Sam Out' banner unfurled on the terraces and scuffles break out, the manager has made it clear he won't be budged.
Having taken responsibility for the defeat he seems convinced that given the chance he can build a better team for next season!
Resp[onding to the scenes, he is this morning reported as saying: ""My response is to build a better team than this season over the summer.
""Overall we haven't been as good as we should have been. I'm contracted at the club until the owners tell me differently."