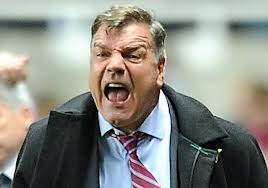 Sam Allardyce today questions West Ham's ambition and reacts to revelations that he's about to be sacked.
Allardyce is now expected to be on his way after the end of season board meeting and review of the season but in the Daily Mail  questons whether West Ham  match his ambition as a manager.
The 59-year-old said: 'I have more ambition than West Ham ever have. I have more ambition than them, or the same ambition as them.
'I want to get into Europe. I want to get into the new stadium. I want to win a cup. If I don't have ambition I don't do this job.
'If I don't have drive, or motivation, I don't do this job. I am ambitious. I have seen it all before and you use your experience to try to achieve that ambition. Can West Ham match my ambition? Eventually, yes. It is whether everyone is patient enough to wait to get there. That is the problem today: a lack of patience across the board.'
He has defendedhis recvord as keeping teh club afloat in the Premier League claiming the Irons played'terrific football'.
But, when asked whether he was still the man to lead the Hammers into their new home at the Olympic Stadium, Allardyce admitted the realistic answer was 'no'.
He said: 'As the average life of a manager is 13 months you would have to say "no", being realistic.
'We've had more (managerial) changes in the Premier League than ever before and one never knows when it's going to happen to you. You have to do the best with the resources you've got.
"This club was in the Championship when I came here and I have delivered what I have been asked to deliver. I did what Gus Poyet did at Sunderland, but six or seven weeks ago. So if I had done it now instead of then would everyone be  singing my praises? Probably yes.'
He hopes the team do everything possible to pull off an unlikely win at the Etihad that could deny Manuel Pellegrini's side the Premier League title.
He said: 'Every player can go and give his best because we know we're safe in the Premier League, so let's go and spoil Manchester City's party."