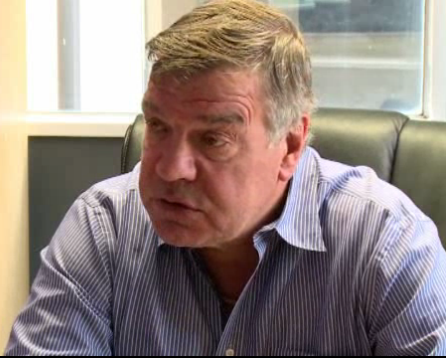 Sam Allardyce reckons David Sullivan and David Gold are " the best owners I've ever had."
And of the  calls for his head last season he declares: "They are loyal. They could have cracked under pressure. At one stage I thought it might have been very, very close in December and January.
"It's very difficult to take the pressure when you're the owner and every man and his dog is saying, 'Your manager's c—, you've got to get rid of him'.
"They were saying it to them through social media, through abusive messages and emails. The owners are very easily contactable – personally, I'd say too easily. They get affected by it. I've no problem with that. My life's about adjusting to owners' needs.
"When you come into a club – and this is where young managers slip up – the relationship with the owners is the most important thing, not the relationship with players.
"With owners, it's what do they want? What do they need? They said to me [in 2011 with West Ham in the Championship]: 'Get up – and stay there.' That was the first priority and then can you build on that. Everyone wants to have the best team, and play the best football, but that takes some building, some doing."
"We have the great new stadium that we're going to and that's exciting but that's an extra pressure [to make sure they arrive still in the Premier League in 2016].
"At least as time has gone by we've improved, improved, improved. The only way is getting results, not playing 85 passes in midfield, looking pretty and not winning.
Allardyce took the criticism on himself, shielding the players. "If it gets to your players you're finished. I take it on me.''
"This squad is now looking better. Every fan at the moment is happy that we are not only winning but also we're entertaining them.
We've scored 15 goals in the first eight games. If we carry on like that, that's 72 goals and that means we'll finish in the top four – unlikely but great. We might have a chance of Europe if we stay consistent."
Andy Carroll will return soon , is back in training, and should be available within "two to three" weeks. Allardyce laughs off suggestions that he will return to the team automatically.
He said "Andy has to wait. If those two [Valencia and Sakho] carry on, there's no way they can be put to one side for Andy. Andy will have to earn his place. He knows it."
For £3.5 million, West Ham have already been rewarded with six goals in seven games from Sakho. "He's a brilliant lad, brilliant pro, focused. His self-belief at the minute is sky high. He believes when he runs out on the field that he'll score, even Saturday against City. He did it against Liverpool. Him and Valencia tortured them. Kouyaté is top quality too.
"It's exciting. The club has bought players who are younger, and seem to be really hungry. Alex Song has got the best gear we've ever seen, the best hats we've ever seen and unbelievable scarves. He wears glasses when he doesn't need them but they're fashionable. He fetches a chuckle when he comes wandering into the dressing-room."