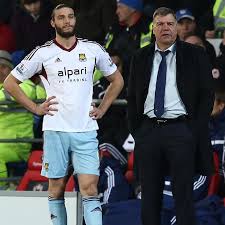 Sam Allardyce never worries about stating the self-evident so to hear him say the Manchester United game tomorrow is a "big one" comes as no surprise!
However, in his column for www.thisislondon.com, he declares that the team has "thrown away" 15 points this season.
He said: "We might have had 13 clean sheets this season, which is a record of which to be proud, but a weakness has been that, when we go in front, as we did against Stoke, we don't go on to win enough times.
"We've thrown away 15 points from winning positions this season and that is not good enough. I do believe, though, that refereeing decisions at Everton and Stoke have cost us at least two points.
"It's hard enough to win away from home without those decisions going against you.
"One real positive last weekend was the goal for Andy Carroll and, in my opinion, he is certainly not out of the reckoning for Roy Hodgson's World Cup squad because there is no one else like him.
"Yes, Rickie Lambert is a big striker but a different player to Andy. The modern game, as decided by some Premier League managers, doesn't favour a player like Andy but take him out of our game and you diminish its entertainment value.
"He's a delight to watch when he gets into the six-yard box, positions himself by the far post and then puts that cross into the net with his head."
One thing's for sure if the Irons  are to beat United in what Sam simply calls " a big game for us" AC is going to have a pivotal role to play.