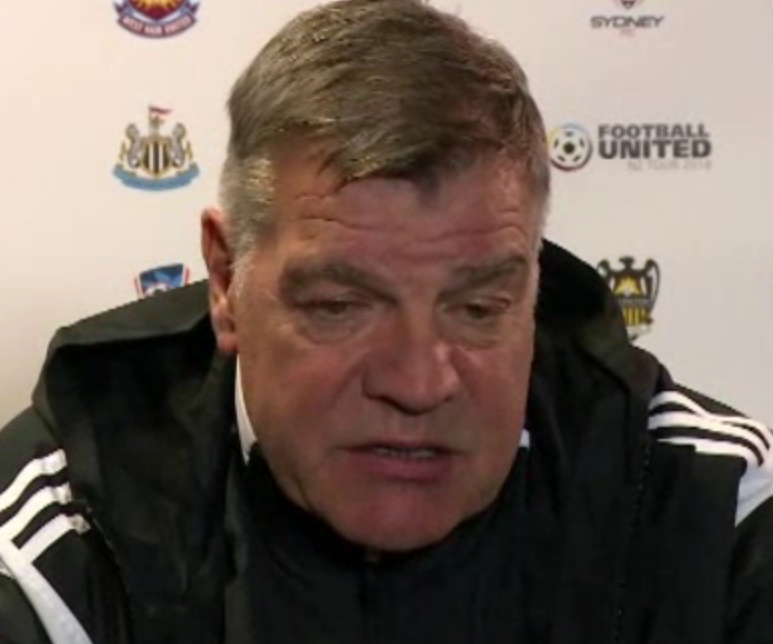 Sam Allardyce claims the deal which saw the Irons get the Olympic Stadium is "bit of business ever done in football by a set of owners."
The two Davids got the stadium for just £5million-a-year rent in a remarkable business deal but now Allardyce has urged the two owners  to plough everything they have saved into building a team to reflect the club's new home.
He said:  "The one thing we have got in our advantage is we don't have to spend £450m on our new stadium, which is the best bit of business ever done in football by a set of owners."
Speaking to the national media he added: "What you have to do in football terms is use your money that has been saved to strengthen the team. And, when it gets there, then be in a position where it is hopefully not concerned by its Premier League status.
"If we can carry on through the rest of the season how we have done so far, we can look forward to the season after that on the up."
Today's rivals Arsenal had a huge financial burden placed on them by an expensive relocation from Highbury to the Emirates Stadium.
Boss Arsene Wenger felt the pressure when thje Gunners moved from Highbury to the Emirates and is now feeling the pressure from fans believing he is past his sell by date with that as a contributing factor after 18 years..
But Allardyce added: "He's been manager, accountant and financial director — there's no doubt about that. The man set out a fantastic team before they decided to move and then built a couple of brilliant young teams based on the fact that the same amount of finance didn't appear to be available to him.
"I think he's almost got the Emirates paid off by his achievements which is a massive factor considering there was that much investment.
te concernsAllardyce, however, has his thoughts on more immediate concerns as he bids to get back to winning ways after the 2-0 defeat at Stamford Bridge on Boxing Day.
He said: "We have to bounce back. I am relying on the home form we have shown over the last seven games to be there in abundance. The last seven home games — six wins and one draw — shows the form we are in at Upton Park.
"We are turning it into a real fortress again and I hope that will be the case against Arsenal.
"You have to try and get at the defence that at times can be suspect. But you've got to be good enough on the ball to get into those areas.
"If you can do that maybe you can catch them out. Results-wise they have done very well at our place. I think performance-wise we have always been right in the game but not managed to get anything out of it because of the quality Arsenal have shown.
"This time around we are a better squad, have better strength in depth, more confidence, never been as high in the league as now and have also beaten Liverpool and Manchester City."