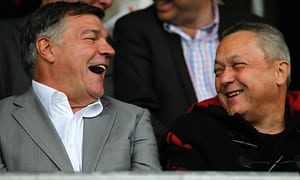 Sam Allardyce has told talkSPORT that whoever leaked that Bilic called players after the sack to ask where he went wrong is disgusting.
Big Sam said "I don't know who leaked that in the press. Whoever did is disgusting. Slaven ringing up one or two of the players for a private conversation and it ends up in the press.
Suggesting the leak possibly came from a player Sam said: "If he has been too soft, then they have opened themselves up for a more disciplined regime [under David Moyes] and they can't complain about it."
Speaking about leaks during his time at West Ham Allardyce added: "I couldn't control David Sullivan, he is the owner of the football club and however negative you told him those comments might be from Jack, he was always going to give Jack that information and let him tweet it.
"You pull your hair out at the beginning and in the end you have to accept it for what it is and move on and accept that it is going to happen.Some of the time those tweets were really unacceptable, particularly the one about Kevin Nolan, who was an outstanding captain for West Ham.
"When it gets too personal towards one player particularly, it needs to be reined in. But you can't stop it."