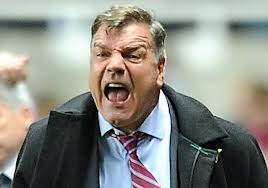 Sam Allardyce is reportedly "surprised and shocked" by David Gold's amazing move in favouriting a Twitter comment asking if the manager would soon be sacked.
According to the Telegraph the club is close to signing Carl Jenkinson on loan but the way things are going Allardyce may not be around to manage the right back!
The Telegraph says he has agreed a deal to take Jenkinson on loan for the season after holding talks on Monday with the England international.
Jenkinson, 22, has been made available following Arsenal's £16 million signing of Southampton's Calum Chambers and West Ham are on the brink of beating competition from Hull City, Swansea City and Queens Park Rangers to take the right-back for the forthcoming campaign.
However, Allardyce is said to be "surprised and shocked" by David Gold, the co-chairman, taking the remarkable step of 'favouriting' a derogatory message about the manager on Twitter.
Gold was sent a message by a Hammers fan reading "Is today the day we get rid of BFS ?? fingers crossed", a reference to Allardyce's nickname Big Fat Sam, and favourited it, which was seen by his 92,000 followers.
Allardyce has been made aware of it and a source close to the West Ham manager admitted that it had left him stunned.
The fall-out from the awful pre-season could see Allardyce gone although a huighly placed source told ClaretandHugh: "The owners believe that honouring contracts is the right thing to go. They are not hirers and firers."
However, events of recent days would appear to be making a season long relationship between manager and board increasing unlikely.