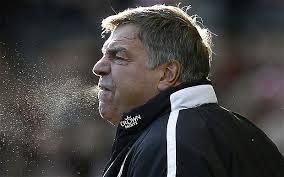 Sam Allardyce has made it crystal clear that the Irons season could well become a big let down if the club fails to stay in the top ten!.
That of course was the minimum requirement from the owners at the start of the season but expectations of top four, six or eight soared with the team's brilliant start.
It has now gone pear-shaped and the manager knows it declaring: ""It's a let-down now, it's a disappointment now, there's no doubt about it.
It's as well to remind ourselves that on Boxing Day the team sat fourth with one win from 11 since we find the likes of Swansea and stoke City above us.
Allardyce said:  We should be sat challenging for Europe still. We should be and we've been in the position to do it and we've let it slip.
"We have entertained well but my point is about winning. I am not interested in anything else other than winning but performances have been good enough to win more games recently."
However, despite the slide and the board's absolute minimum requirements he is ready to discuss next season saying: "When we get to this next time we've got a better squad, a better strength in depth of players, we don't get affected by injuries as much as we have and we continue to win football matches instead of drawing them," he said.
"That's the nature of recruitment for next season. This squad, to finish eight or better, by the way it's looking at the moment may not quite be good enough just yet.