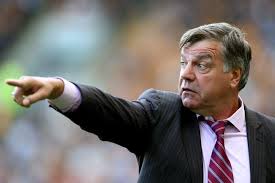 Sam Allardyce may be facing an uncertain future but he has very definite idea on what's required to take West Ham on to the levels they want to scale!
Despite the team's form dipping since Christmas to the point where they have achieved just one League win the manager unsurprisingly believes more new signings will be key to their hopes of further improvement next year.
Harry Redknapp spoke in similar terms back in 2001 before an article in 'Over Land and Sea' sealed his departure after he claimed around £15 million would be required to take the team on.
Chairman Terry Brown responded by kicking him out and although the Davids are highly unlikely to respond in like manner, the end of season review could result in the same effect.
Discussing West Ham's ambitions in an interview with Sport Magazine, Allardyce said: "[The club] has a new stadium. It's spent money on improving the team. It's obviously limited now – with the Financial Fair Play – but we have to make the best value of that money, and the recruitment this year has been exceptionally good.
"Certainly three or four quality players on top of this squad will make all the difference. And hopefully the players who are here now will be better next year than they are this."
He added: "At the moment, there's a level we can reach but it will be very difficult to go beyond that based on the spending power of the big guys now.